Swyftx and Crypto.com are some of the most reviewed exchanges in the market, so we put the two head to head.
The main difference between Swyftx and Crypto.com is that Swyftx is an Aussie exchange that has lower fees and spreads and a great mobile app.
After my comparison, I couldn't go past Swyftx, with their low fees and spreads, and $10 when you sign up.
See how the two match up when it comes to a range of features, fees and security.
| | visit site | visit site |
| --- | --- | --- |
| Rating | | |
| Cheaper Fees | | |
| Payment Methods | | |
| Direct Deposit | | |
| PayPal | | |
| Pay ID | | |
| Poli | | |
| Features | | |
| Beginner Friendly | | |
| Mobile App | | |
| Cold Storage | | |
| 2-Factor | | |
| Currencies Accepted | AUD | USD, AUD, CAD, CHF, EUR, GBP, NZD, SGD, JPY, ZAR & 9+ more |
Swyftx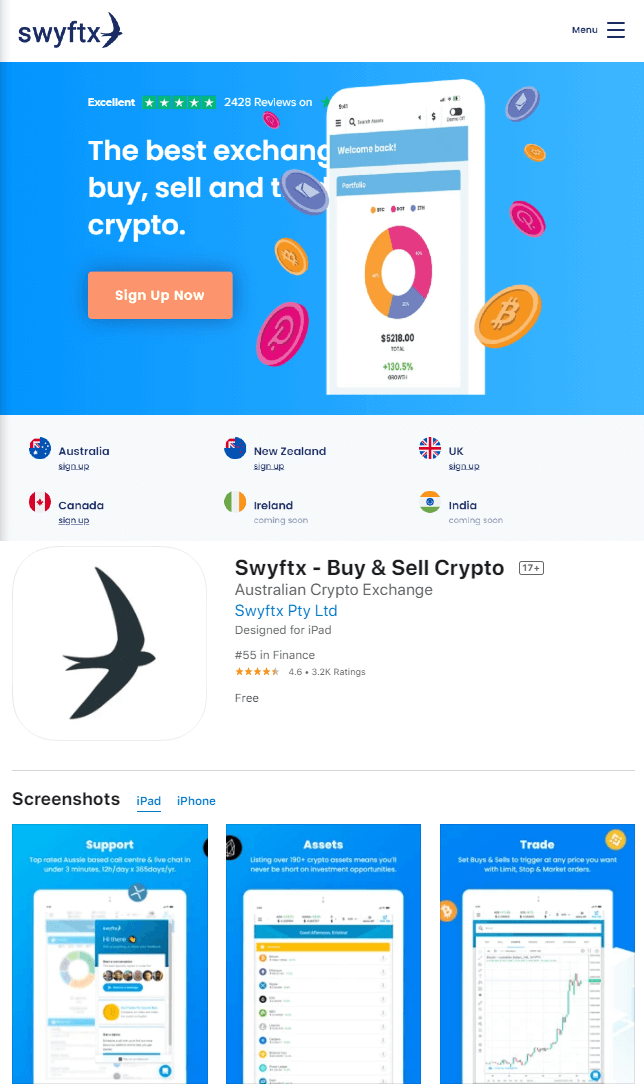 Pros
high levels of security
small spread and low trade fees
customizable user interface
Portfolio diversification made easy with Swyftx Bundles
260+ coins offered
Cons
Only available to Australian users
Swyftx became one of the top cryptocurrency exchanges early on by being one of the first liquid exchanges to comply with all Australian taxation and cryptocurrency regulations. They've continued to stay dominant in the crypto marketplace since their start in 2018 through high levels of security, an easy-to-use interface, and by offering over 260 different coins. With all of these features, plus being inexpensive to use, it's no surprise that Swyftx is so popular among Australians. For a full breakdown of Swyftx, take a look at our Swyftx exchange review.
Crypto.Com
Pros
Available across 90 different countries
Can insure digital assets
Cold storage
Good mobile app
Staking CRO offers discounts
150+ coins offered
Cons
No desktop or web app
Poor customer service
Crypto.com is based in Hong Kong but offers its crypto exchange services to 90 countries worldwide. This exchange got its start in 2016 and has accrued over 10 million users. Crypto.com offers competitive trading fees that can be lowered if you stake their coin, CRO. After filling out your Know Your Customer details to verify your identity, setting up an account is a breeze.
Swyftx vs Crypto.com: Exchange Comparison
Fiat currencies accepted:
Swyftx usually allows only its users to convert AUD into crypto. However, some other currencies are available if you are making large transfers.
Crypto.com lets you convert AUD, USD, EUR, and 20 other fiat currencies into cryptocurrency.
Cryptocurrencies accepted:
Swyftx offers over 260 different coins, including BTC, ETH, and LTC.
Crypto.com offers 150+ coins, such as BTC, DIGE, and ETH.
Swyftx vs Crypto.com Fees:
Swyftx is the crypto exchange trusted by many Australians because it combines a ton of great features with very low fees. Trading fees sit at an inexpensive .6%, and there are no deposit or withdrawal fees when using AUD. Plus, Swyftx boasts the lowest spread of all Australian exchanges, meaning your digital asset purchases will be as close to the market price as possible.
Crypto.com's fee structure is a bit more complex. While their trading fees are a low .4%, if you are using a debit or credit card to purchase digital assets, you'll face a 2.99% fee. You can get trading fee discounts if you stake the exchange's digital coin, CRO, but users have complained that trading fee discounts are difficult to navigate.
🏆 Winner: Swyftx

While Swyftx has slightly higher trading fees, you'll know exactly how much you are paying without running into hidden fees in other areas.
Deposit methods:
Swftyx provides plenty of different deposit options for their users to choose from. You'll pay zero deposit fees no matter whether funding your account via bank transfer, POLi, credit card, debit card, PayID, OSKO, or cryptocurrency.
Crypto.com has fewer deposit methods than Swyftx. When funding your account, you can do so via debit card, credit card, PayPal, Crypto.com Pay, and bank transfers.
🏆 Winner: Swyftx

Swyftx makes depositing funds quick and easy to navigate.
Staking on Swyftx vs Crypto.com
Swyftx is one of the few beginner-friendly exchanges with the option of staking cryptocurrencies. You can easily stake on their desktop platform or on the go with their mobile app. Swyftx makes staking simple, letting you earn rewards and interest on the same coin you have staked.
Crypto.com incentivizes its users to stake its native coin, CRO. Crypto.com will reward you with lower trading fees, higher staking interest rates, and credit card rewards when you stake CRO. However, some users complain that Crypto.com pushes you to stake CRO too much, as the exchange is expensive to use if you don't possess CRO.
🏆 Winner: Swyftx

Swyftx makes staking easy to understand for beginners and doesn't render their exchange obsolete if you choose not to participate in staking
Notable Features:
Swyftx is so popular because they offer the lowest spread of all Australian exchanges and tops it off with super low trading fees and plenty of unique features. One great feature is its customizable user interface. The standard interface eases beginners into crypto trading, but it also offers plenty for seasoned veterans who can structure their interface to display all of their essential trackers. Swyftx also makes it easy to diversify your crypto portfolio through their Bundles. As the name implies, Bundles let you purchase collections of different coins and split your investment evenly between the digital assets.
Crypto.com is one of the few crypto exchanges that solely relies on their Android and iOS app and does not have a desktop or web app. Checking charts is easy to do on the go and is aesthetically appealing, but they don't provide much information for experienced traders. Crypto.com's main feature, which we have discussed, is the rewards you earn from staking their native coin, CRO. It's nice to receive lower transaction fees and earn interest on your investments, but if you aren't looking to invest in CRO, Crypto.com probably isn't the right choice for you.
Swyftx. It's almost unbelievable how many security features Swyftx offers with its low trading fees.
🏆 Winner: Swyftx

With Swyftx's customizable user interface, Bundles, and other great features, it offers far more than Cryto.com.
Security features:
Swyftx makes security their top priority. They offer a wide range of security features, which is impressive, seeing how they have the lowest spread fees and very low trade fees. There are too many security features to list them all, but a few of them are biometric authentication, breached password detection, internal least-privilege security model, and external penetration testing.
Crypto.com has all the standard exchange security features, such as two-factor authentication. It also makes sure the funds in your wallet are secure as they exclusively use cold storage. Cold storage refers to when digital assets are stored offline, making them inaccessible to hackers. Crypto.com is somewhat innovative in that they work with local banks in the U.S. to provide $250,000 in FDIC insurance, but this only applies to U.S. deposits.
🏆 Winner: Crypto.com
Regulation compliance:
Swyftx is one of the most popular cryptocurrency exchanges in Australia as it was the first liquid exchange to comply with all Australian crypto regulations and Australian tax codes. This means that it is impossible to anonymously purchase digital assets using Swyftx as you will have to complete a Know Your Customer (KYC) form to verify your identity. Swyftx is a legit exchange, so no need to worry about regulation compliance if you are an Australian user.
Although Crypto.com is based in Hong Kong, it abides by all necessary regulations to provide its services to over 90 countries. Crypto.com prides itself as the first global cryptocurrency exchange to receive a Class 3 Virtual Financial Assets license from the Malta Financial Authority. Crypto.com CEO, Kris Marszalek, has always prioritized regulation as he believes this will accelerate the world's transition to cryptocurrency.
🏆 Winner: Crypto.com

Crypto.com has a slight advantage in this category since they meet global digital asset regulations, not just those specific to Australia.
Customer service:
What makes Swyftx unique is that they are one of the few crypto exchanges that offers live chat customer support. Nothing is quite as stressful as having technical difficulties when money is on the line. If you use Swyftx, you won't have to wait hours, or even days, like you would with other crypto exchanges, to get help.
Crypto.com has a mediocre track record when it comes to customer satisfaction. This is primarily due to their poor customer service. Even though Crypto.com advertises that they provide customer service via email and chat, many users complain that Crypto.com's support team is slow to respond and is usually of little help.
🏆 Winner: Swyftx

Swyftx far outperforms Crypto.com and most other exchanges when it comes to customer service
Mobile functionality/mobile app:
Swyftx has a great and easy-to-use mobile app that you can use to track and stake your digital assets on the go. Users love the Swyftx mobile app as it has a 4.5-star rating with over 5,000 reviews on the Apple App Store.
Crypto.com does have a high-functioning mobile app, but that is all they have. This exchange does not provide a web or desktop alternative, which is unusual. Also, users have complained that their nice-looking charts are great for beginners but lack crucial additional information for experienced digital investors. Crypto.com has a 4.3-star rating in the App Store after over 67 thousand reviews.
🏆 Winner: Crypto.com

Crypto.com's mobile app is slightly better than Swyftx, which isn't that great considering that this is the only way users can access the cryptocurrency exchange.
We have also compared Swyftx to these exchanges: