Swyftx and Crypto.Com are two of the best crypto exchanges available in Australia. In today's article we'll compare the two of them head to head so you can figure out which one is right for you.
| | visit site | visit site |
| --- | --- | --- |
| Rating | | |
| Cheaper Fees | | |
| Payment Methods | | |
| Direct Deposit | | |
| PayPal | | |
| Pay ID | | |
| Poli | | |
| Features | | |
| Beginner Friendly | | |
| Mobile App | | |
| Cold Storage | | |
| 2-Factor | | |
| Currencies Accepted | AUD | USD, AUD, CAD, CHF, EUR, GBP, NZD, SGD, JPY, ZAR & 9+ more |
Swyftx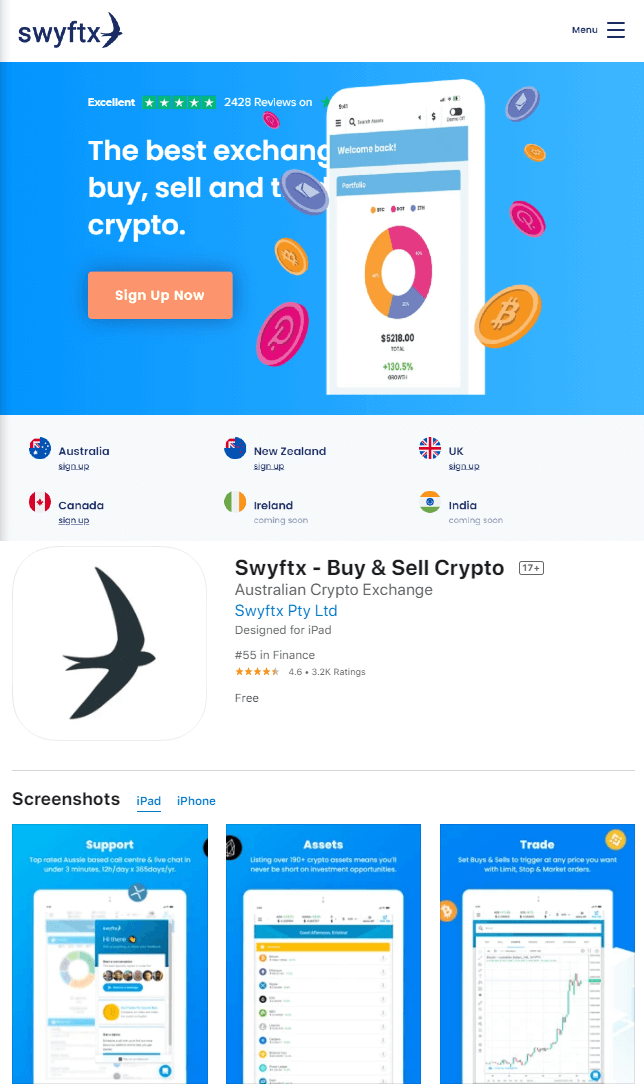 Pros
Call feature for beginners
Lower transaction fee
Lower spreads
Cons
Automatic conversion from AUD to USD
Swyftx's Australian-based cryptocurrency trading and exchange platform has gained immense popularity among its users. It is also said to be one of the highest rated exchanges in Australia, with cryptocurrencies such as Bitcoin, Ethereum and 260 other crypto assets on their platform since 2017.
Coin Companion offer: Free $10 to trade with in Swyftx when you register through the link below.
Crypto.Com
Pros
Lower fees than other well-known platforms
Added benefits for staking CRO
Cons
Customer service isn't responsive
Crypto.Com, a Hongkongers-based cryptocurrency exchange platform, has been in the crypto industry since 2016. It is one of the most trusted exchanges in Hong Kong and includes cryptocurrencies such as Bitcoin, Ethereum, XRP, and over 150 other digital currencies.
Fees
How much does it cost to trade on Swyftx and Crypto.Com?
First, let's take a look at how deposit fees work. Deposits on Swyftx costs 0. On Crypto.Com they charge 0 for a deposit.
When it comes to buy fees Swyftx charge 0.60% and Crypto.Com charges 0.4.
When selling Bitcoin or other cryptocurrencies, Swyftx takes 0.60% while Crypto.Com is 0.4.
Deposit Methods
Swyftx offers 3 main methods to deposit AUD. They are bank transfers, BPay, PoLi, PayID, credit and debit cards.. The daily limit is 0 per day which most people shouldn't be concerned about hitting as it's more than enough for the average user!
Crypto.Com allows you transfer funds through their supported payment options which are bank transfers, BPay, PoLi, PayID, credit and debit cards..
Crypto.Com's daily deposit limit is 500 USDC.
The bottom line is, Swyftx is the best choice as they have more deposit methods available which makes it easier to transfer funds.
Security Features
Swyftx is well known for their security measures. They use the following methods:
using JWT tokens & session expiry
offering 2FA account protection
checking for breached passwords on other websites
Crypto.Com also takes the security of their customers seriously. Here is what they do to protect your assets:
We use MultiFactor Authentication (MFA)
We ensure withdrawal protection
provide 24/7 live customer support
While both exchanges are secure, it appears that Swyftx has better security over Crypto.Com.
Mobile App
Swyftx mobile app is a highly rated one with 4.6 stars on Apple's App Store. It has an easy and intuitive UI that makes it great for beginners, but experienced traders may miss some advanced features like Candle Sticks or Trade Management Tools.
Crypto.Com also provides an excellent user experience depending on the type of trader you are seeking to become! With its simple yet powerful interface, Crypto.Com could be just what your trading needs demand.
Final Verdict
Either exchange is a great choice with a great service but Swyftx comes out on top for me.
Sign up now using the links below:
Swyftx
Coin Companion offer: Free $10 to trade with in Swyftx when you register through the link below.
Crypto.Com