Swyftx and BTC Markets were some of the first cryptocurrency exchanges in Australia. Over the years, both exchanges have fostered billions of dollars in crypto trading. If you can't decide between Swyftx and BTC Markets, this article will help you find the crypto exchange that fits your needs.
| | visit site | visit site |
| --- | --- | --- |
| Rating | | |
| Cheaper Fees | | |
| Payment Methods | | |
| Direct Deposit | | |
| PayPal | | |
| Pay ID | | |
| Poli | | |
| Features | | |
| Beginner Friendly | | |
| Mobile App | | |
| Cold Storage | | |
| 2-Factor | | |
| Currencies Accepted | AUD | AUD |
Swyftx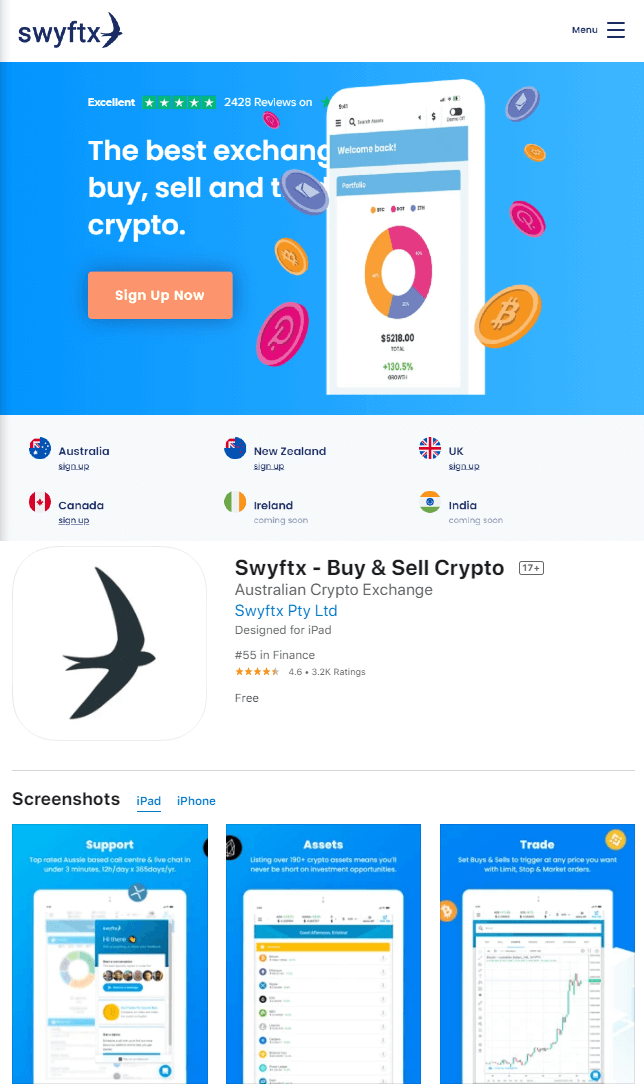 Pros
High levels of security
Small spread and low trade fees
Customizable user interface
Portfolio diversification made easy with Swyftx Bundles
260+ coins offered
Cons
Only available to Australian users
So many Australians love Swyftx as it combines low fees, excellent customer service, and high levels of security. Swyftx's claim to fame is that they were the first liquid crypto exchange to comply with all Australian regulations and tax codes. One of the main reason Aussies choose Swyftx is that they have the lowest spread of any Australian crypto exchange, meaning you will be purchasing your digital coins at as close to market price as possible. If you want to understand Swyftx better, take a look at our full review here.
Btc Markets
Pros
OTC trading
Low trading fees when investing large sums
Cons
Poor customer service team
No mobile app
Only accepts AUD
Only 22 coins offered
BTC Markets operates out of Melbourne and is made specifically for Australian users. This cryptocurrency exchange has been around since 2013, just four years after Satoshi Nakamoto created Bitcoin. BTC Markets makes it easy to convert AUD into crypto as they support same-day deposits, and it is a breeze to link your exchange account to your bank. While they may not offer a wide variety of coins to choose from, BTC Markets is still a competitive exchange if you are looking to invest in the most popular coins.
Swyftx vs BTC Markets: Exchange Comparison
Fiat currencies accepted:
Swyftx is optimized for Australian users and accepts AUD on their exchange. For large transfers, you may be able to use a different fiat currency, but don't count on it.
BTC Markets only supports AUD with no exceptions
Cryptocurrencies accepted:
Swyftx has almost every cryptocurrency you can think of, with over 260 coins offered. Whether you are looking to invest in the most popular coins, like Bitcoin, or mostly unknown altcoins, Swyftx has you covered.
BTC Markets offers a limited selection of coins to choose from. Currently, BTC Markets offers 22 different coins, such as BTC, XRP, USDT, and other mainstream cryptocurrencies.
Swyftx vs BTC Markets Fees:
Swyftx has some of the best trading fees of any exchange while still providing a great user experience. Their trading fees sit at .6%, and they have the lowest spread of any Australian exchange. Plus, there are no fees for deposits or withdrawals.
BTC Markets has competitive trading fees, but they are more complex to understand. There is a low .2% trading fee if you are trading crypto for crypto. However, when trading AUD for digital coins, a .85% fee is applied. BTC Markets will lower this fee down to .1% for investors trading $5 million+ at a single time.
🏆 Winner: Swyftx

Swyftx easily wins when it comes to trading fees. Swyftx has no hidden costs and makes it easy to understand how much you are being charged for using the platform.
Deposit methods:
Swyftx gives its users plenty of deposit methods to choose from: POLi, a credit or debit card, PayID, OSKO, or even cryptocurrency.
BTC Markets allows their users to choose between two payment gateways to deposit funds: OSKO or BPAY. Both of these gateways are well-known and trusted methods for funding your crypto account.
🏆 Winner: Swyftx

Swyftx has a wide variety of deposit methods, letting you choose the method most comfortable for you.
Staking on Swyftx vs BTC Markets
Swyftx lets its users stake multiple coins on their desktop and mobile apps. While staking is usually seen as something only crypto veterans engage in, Swyftx's user-friendly interface simplifies the process so everyone can earn interest and rewards on their digital investments.
BTC Markets advertises that they are one of the few Australian exchanges that offers staking. This is only somewhat true. On BTC Markets, you can only stake the cryptocurrency Algorand and make about 3.47% interest on it in a year. But, this is the only coin you can stake on BTC Markets.
🏆 Winner: Swyftx

Swyftx has so much more to offer in terms of different coins and better rewards for staking.
Notable Features:
Swyftx has plenty of unique features that make it stand out from other exchanges. One such feature is its customizable user interface. This lets beginners use the standard desktop app that is easy to navigate and lets experts add trackers and various other market analysis tools. Another cool feature from Sywftx is Bundles. With Bundles, you can invest in a collection of different coins. What you paid for the Bundle will be evenly spread across the various coins, making it a great way to diversify your digital portfolio.
BTC Markets is geared towards those willing to invest big into a single digital asset. They incentivize large investments with their trading fee that decreases in proportion to volume and through Over-the-counter trading (OTC). OTC trading allows you to invest large sums with minimal impact on the cryptocurrency's market price. If you invest over AUD 100K, BTC Markets will give you personalized support and route your order through their trading desk.
🏆 Winner: Swyftx

Swyftx has excellent features for beginners making small investments and crypto veterans looking to make a big trade.
Security features:
Swyftx users can secure their digital assets through biometric authentication, breached password detection, an internal least-privilege security model, and external penetration testing. There are plenty of other innovative security methods Swyftx utilizes, which makes many wonder how Swyftx can have such low fees and offer such high levels of security.
BTC Markets keeps 98% of its assets encrypted in cold storage. Cold storage refers to an offline storage method for digital assets and their passwords. Since most of BTC Markets' digital asset reserves are offline, they are safe from any exchange-wide hacking attempts.
🏆 Winner: Swyftx

Swyftx does security better than almost any other exchange and lets its users take a variety of precautions to secure their digital assets.
Regulation compliance:
Swyftx became popular in Australia as one of the only liquid exchanges to comply with all Australian tax codes and crypto regulations. Exchanges, like Swyftx, started implementing Know Your Customer (KYC) forms to verify the identity of digital asset investors, a practice that is now standard in the industry.
BTC Markets is one of the longest-existing cryptocurrency exchanges and was the first to receive Blockchain Australia's Gold Certification from the Australian Digital Commerce Association.
🏆 Winner: BTC Markets

BTC Markets has been around since 2013 and has evolved to meet regulatory standards at every turn.
Customer service:
Swyftx has a stellar customer support team that is always ready to give a helping hand. Unlike other exchanges, Swyftx lets you contact a support agent immediately via live chat. Learning to invest in crypto can be a stressful process. That's why beginners should focus on an exchange with excellent customer service to help you through the setup process and your first trade.
BTC Markets tends to get bad reviews on a lot of platforms. Many of these reviewers have harsh complaints about their customer service team that takes days, weeks, and sometimes even months to resolve an issue.
🏆 Winner: Swyftx

Swyftx easily wins this category as they offer live chat customer service and are widely known to help beginners through any problem.
Mobile functionality/mobile app:
With Swyftx's mobile app, you can track, buy, sell, and stake coins no matter where you are. After 5,000 reviews on the App Store, the Swyftx mobile app has earned a 4.5-star rating.
BTC Markets does not have a mobile app.
🏆 Winner: Swyftx

Swyftx makes a mobile app that is aesthetically pleasing and better functioning than the rest of the competition.