You really can't go wrong when choosing between Swyftx and Digital Surge. Both are phenomenal exchanges that offer a great user experience. Digital Surge is catered for beginners, while Swyftx allows options for crypto veterans and newbies alike.
After checking out the security, fees and options for both exchanges, Swyftx is the winner to me with their low fees and spreads, and $10 when you sign up.
Continue reading to explore the differences between these exchanges and find the right one for you.
| | visit site | visit site |
| --- | --- | --- |
| Rating | | |
| Cheaper Fees | | |
| Payment Methods | | |
| Direct Deposit | | |
| PayPal | | |
| Pay ID | | |
| Poli | | |
| Features | | |
| Beginner Friendly | | |
| Mobile App | | |
| Cold Storage | | |
| 2-Factor | | |
| Currencies Accepted | AUD | AUD, USD |
Swyftx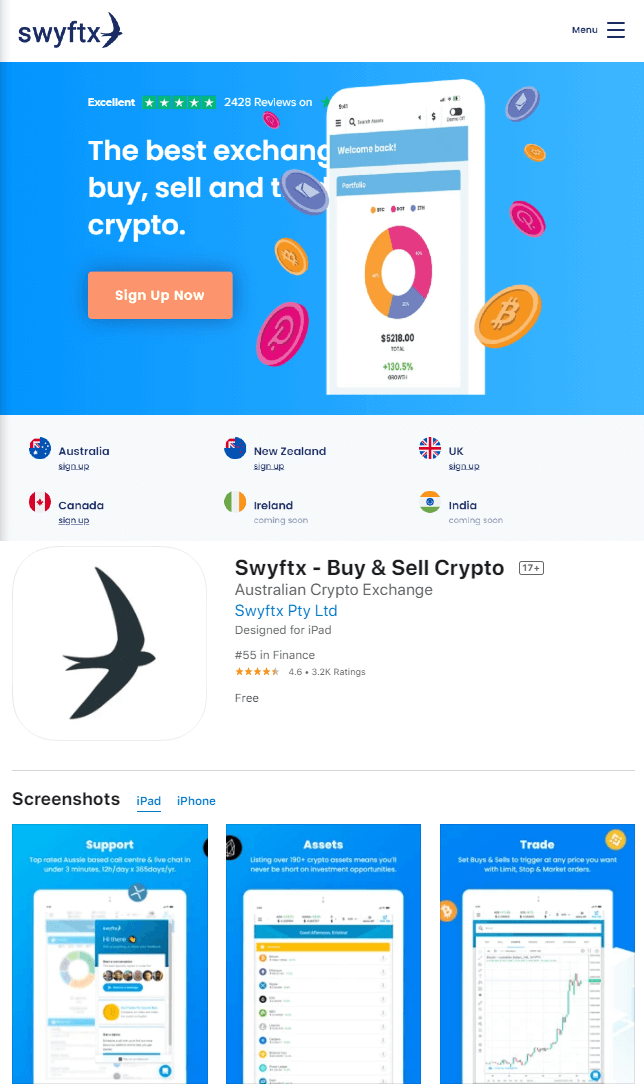 Pros
High levels of security
Small spread and low trade fees
Customizable user interface
Portfolio diversification made easy with Swyftx Bundles
260+ coins offered
Cons
Only available to Australian users
Swyftx burst onto the crypto scene in 2018 as the first liquid cryptocurrency exchange to implement all Australian taxation and financial regulations. Since it was one of the first legitimate exchanges, they gained a ton of users and have kept a loyal following through their great service and features. Swyftx has the lowest spread and super low trading fees while still providing a quality user experience. If you want to learn even more about Swyftx, take a look at our full breakdown here.
Digital Surge
Pros
Great mobile app
High security
Beginner-friendly
280+ coins offered
Phenomenal customer support
Cons
Only accepts AUD
Credit card deposits are unavailable
Digital Surge, like Swyftx, is based in Australia and got its start in 2017. This exchange is known to be great for beginners with its user-friendly interface. Digital Surge's mission has always been to make crypto investing accessible to the average Aussie. Digital Surge is a solid pick when looking for cryptocurrency exchange with low fees and an excellent customer service team.
Swyftx vs Digital Surge: Exchange Comparison
Fiat currencies accepted:
Swyftx only allows users to fund their accounts with AUD. The only time other fiat currencies can be used is for very large transfers, but this is rare.
Digital Surge only allows users to fund their accounts with AUD.
Cryptocurrencies accepted:
You can buy or sell just about any coin you can think of with Swyftx's portfolio of 260 different coins.
Digital Surge offers its users over 280 coins to choose from. You'll have no problem getting your hands on Bitcoin, Etherium, or even Dogecoin.
Swyftx vs Digital Surge Fees:
Swyftx has low trading fees that sit at .6%. While some exchanges have even lower trading fees, they take advantage of their users through hidden fees like high spreads. Swyftx has the lowest spread of all Australian exchanges, so every time you purchase a digital asset, it will be extremely close to the actual market value and not inflated. You also won't have to pay any fees for depositing or withdrawing AUD.
Digital Surge is optimized for beginners through low trading fees that sit at .5% and can drop all the way down to .1% depending on how much volume you are trading. Digital Surge's spread is also on the lower side, but not quite as low as Swyftx.
🏆 Winner: Swyftx

Swftx has slightly higher trading fees, but it is the most affordable option since they have the lowest spread of all Australian exchanges.
Deposit methods:
Swyftx allows users to fund their accounts via bank transfer, POLi, credit or debit card, PayID, OSKO, and crypto. Plus, you won't have any deposit fees.
Digital Surge doesn't offer quite as many deposit methods. You can fund your account via PayID, cryptocurrency, and POli. When depositing with PayID it is free, but it costs $2-3.30 for POLi deposits.
🏆 Winner: Swyftx

Swyftx provides more deposit options and comes with absolutely zero fees.
Staking on Swyftx vs Digital Surge
Staking is often seen as something that only advanced traders utilize. However, Swyftx makes staking easy to understand. You can stake on their desktop and mobile app to earn interest in your digital assets.
Unfortunately, Digital Surge does not provide its users with the ability to stake coins. While they may add it in the future, you currently won't be able to earn interest on your digital assets.
🏆 Winner: Swyftx

Swyftx is one of the few Australian exchanges that makes staking available and easy for its users.
Notable Features:
Swyftx is one of the best exchanges because it somehow has very low fees and still offers a wide variety of features. One of its features is its customizable interface. This interface allows beginners to keep things simple and for experts to add in a multitude of different market trackers. Another unique feature is Swyftx's Bundle options. Bundles let you purchase a collection of different coins, and it spreads your investment evenly between them, making it an easy way to diversify your portfolio.
All of Digital Surge's features are tailored to make trading easier for those just getting started on the crypto scene. Their sign-up process is quick and lets users start trading in just under two minutes. They also have a phenomenal customer support team, high levels of security, and an easy-to-use desktop and mobile app. Another cool feature is that you can pay Australian bills and credit cards through their platform with Bitcoin.
🏆 Winner: Swyftx

Swyftx offers many of the same features that Digital Surge prides itself on. But, it also has many unique aspects such as a customizable user interface and Bundle options that make it the superior pick.
Security features:
One of the main reasons Swyftx is so popular among Australians is that it takes security measures very seriously. They have too many security features to mention here, but here are a few: biometric authentication, breached password detection, internal least-privilege security model, and external penetration testing.
Digital Surge is no slouch when it comes to security either. It stores the majority of digital assets in cold storage. Cold storage is an offline safe that makes it impossible for hackers to gain access. Digital Surge also regularly updates its multi-layered security system so it is always using the most advanced measures.
🏆 Winner: Swyftx

Swyftx has always made security its top priority so you can have peace of mind when trading or funding your account.
Regulation compliance:
Swyftx created the pathway for other cryptocurrencies to become successful as they were the first liquid exchange to apply all Australian financial regulations and tax codes. You'll have to fill out a Know Your Customer form to begin trading, but this is expected from any legitimate crypto exchange.
Digital Surge is also registered with the Australian Transaction Reports and Analysis Centre. Since it meets regulatory standards, you'll have to complete a KYC form to get access to the exchange.
🏆 Winner: Swyftx

Swyftx became so popular among Australians because it was the first to comply with Australian financial regulations. It is one of the best at understanding how to meet government standards.
Customer service:
Swyftx offers live chat support to help its users through any difficulties. Nothing is quite as stressful as running into issues while investing online, so it is reassuring that Swyftx users can always contact a real customer service agent and not some bot.
Since Digital Surge is made for beginners, they have a highly professional customer support team to help with any questions. Its customer service agents are available via live chat or email 24/7. You won't have any problems communicating with Digital Surge's customer service team as they are all based in Australia.
Tie: Both exchanges have great, 24/7 customer support with live chat and email available.
Mobile functionality/mobile app:
Swyftx users love the mobile app option for crypto investing on the go. Swyftx has a 4.5-star rating in the Apple App store with 5,000+ reviews. In addition to tracking, buying, and selling coins, you can also stake coins on their mobile app.
Digital Surge's mobile app allows users to do almost everything that the desktop app allows. You can view your portfolio, buy/sell crypto, set trigger orders, and even research coins. Its app can be downloaded for iOS and Android.
🏆 Winner: Swyftx

Swyftx has a great mobile app that is easy to use for beginners. Many experienced crypto traders also regard it as top tier.