Picking a cryptocurrency exchange is an important decision that will depend on your needs. Both Swyftx and Easy Crypto are great exchanges for Australians with some important differences. So, let's dive in and find which one is right for you.
| | visit site | visit site |
| --- | --- | --- |
| Rating | | |
| Cheaper Fees | | |
| Payment Methods | | |
| Direct Deposit | | |
| PayPal | | |
| Pay ID | | |
| Poli | | |
| Features | | |
| Beginner Friendly | | |
| Mobile App | | |
| Cold Storage | | |
| 2-Factor | | |
| Currencies Accepted | AUD | AUD, NZD, ZAR |
Swyftx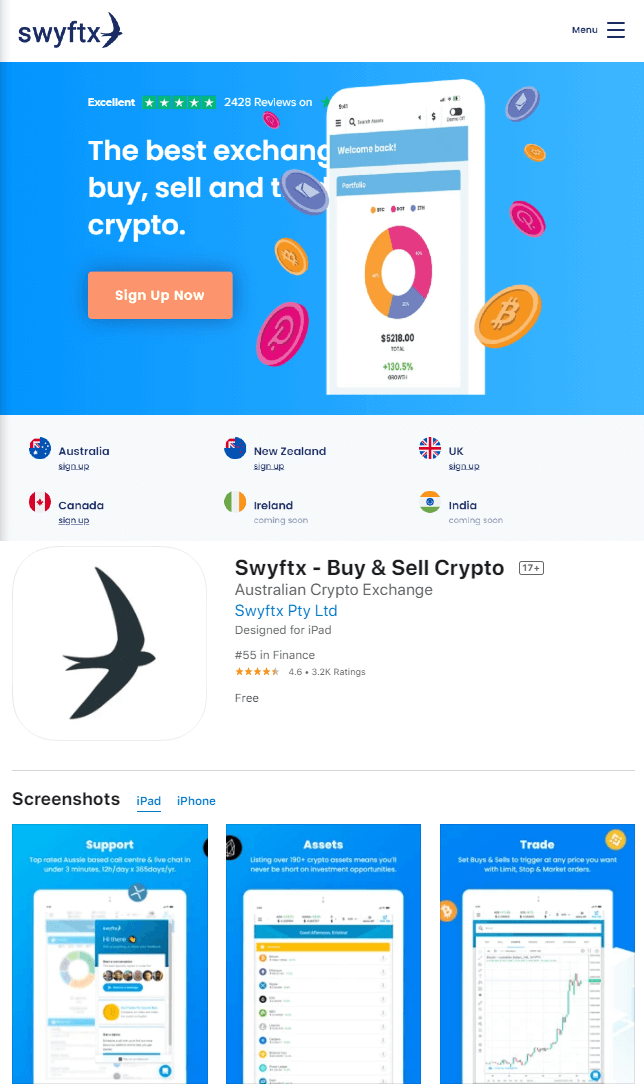 Pros
High levels of security
Small spread and low trade fees
Customizable user interface
Portfolio diversification made easy with Swyftx Bundles
260+ coins offered
Cons
Only available to Australian users
Swyftx quickly became one of Australia's favorite cryptocurrency exchanges because it was the first to comply with all crypto regulations and Australian tax codes. Since its founding in 2017, it has acquired over 300,000 users. Australians flock to Swyftx for great features and low fees. Swyftx has the lowest spread of all Australian exchanges, so you will be purchasing crypto at close to market price. Since Swyftx is one of our favorite exchanges, you can see our full Swyftx review here.
Easy Crypto
Pros
Extremely secure
High-speed transactions
150+coins offered
Cons
No live chat customer support
High fees depending on what coin you buy
Requires private storage wallet
Easy Crypto was founded in late 2017 and became super popular in the New Zealand cryptocurrency scene. It's one of the best exchanges in terms of fast and secure transactions. Anytime you purchase a cryptocurrency on its exchange, it will be sent to your private wallet within minutes. Even better, Easy Crypto boasts a 100% funds safety guarantee on all orders.
Swyftx vs Easy Crypto: Exchange Comparison
Fiat currencies accepted:
Swyftx only allows its users to deposit AUD into their accounts. There are some exceptions to this if you are making large transfers, but this is rare.
Easy Crypto supports three fiat currencies: AUD, ZAR, and NZD.
Cryptocurrencies accepted:
Not many exchanges offer the huge variety of coins that Swyftx does. With over 260 options, including BTC, ETH, and LTC, you can invest in just about any coin you can think of.
Easy Crypto also supports a wide range of coins with 150+ different digital assets to invest in. Some of the coins included are BTC, LTC, and ADA.
Swyftx vs Easy Crypto Fees:
Swyftx is a unique exchange because it has a bunch of great features while offering very low fees. Trading fees are a low .6%, and there are no deposit or withdrawal fees. To top it off, they have the lowest spread of any Australian crypto exchange. If you are looking for an affordable trading experience, Swyftx is the way to go.
Easy Crypto makes it easy for users to understand their fee structure as anytime you purchase a coin, you can see a summary of all the fees charged. While the trading fees aren't too expensive, they are higher than Swyftx's. The trading fees can vary from 0.5% to 1.6%, depending on the network fee conditions and what coin you are purchasing.
🏆 Winner: Swyftx

Swyftx became so popular in Australia because they are one of the most affordable exchanges to use while still providing great service.
Deposit methods:
Depositing funds into your Swyftx account is easy. You can use bank transfer, POLi, a credit or debit card, PayID, OSKO, or even cryptocurrency. For each of these options, there are zero deposit fees.
What makes Easy Crypto one of the most secure exchanges is how they handle depositing funds. Unlike most other exchanges, you cannot store funds on Easy Crypto. Instead, you purchase the coin directly from a bank account, POLi, OSKO, or Account2Account, and it immediately transfers to your private wallet.
🏆 Winner: Swyftx

Swyftx provides more deposit options than Easy Crypto and allows you to store funds on their platform or store them privately.
Staking on Swyftx vs Easy Crypto
Staking is usually something only experienced traders participate in, but with Swyftx, the process is simple. You can easily stake a coin to earn rewards and interest on that digital asset. Plus, you can even stake coins on the go with their mobile app.
Since Easy Crypto doesn't hold any of your digital assets on their exchange, they can't support staking your cryptocurrency. On Easy Crypto's website, they provide advice on how to stake coins in other ways: setting up a validator node, joining a staking pool, subscribing to a staking service, and more.
🏆 Winner: Swyftx

Swyftx is clearly the better exchange for staking digital assets. With Swyftx, you won't have to look for alternative avenues to earn interest on your digital investments.
Notable Features:
In addition to their low fees, Swyftx provides its users with one of the best platform experiences. One feature they offer is a customizable user interface that allows beginners to have a simplified trading platform and for experts to add multiple trackers to their interface. Swyftx also offers crypto Bundles, making it easy to diversify your crypto portfolio. With Bundles, you can purchase a collection of different coins, and the investment will be spread evenly between the coins.
Digital investors choose Easy Crypto when they want super-fast transactions with guaranteed security. Easy Crypto is known to be a non-custodial exchange, meaning that none of your fiat currency or cryptocurrency is held on their exchange. Instead, all orders are transferred offline to your private wallet and away from hackers. Another benefit to being a non-custodial is that it offers the quickest way to buy and sell coins. You don't need to wait hours or days to deposit funds and begin investing like you would on other exchanges. Instead, you can instantly purchase coins directly from your bank account and have them transferred to your private wallet in minutes.
🏆 Winner: Swyftx

Swyftx has many great features beyond just security and quick transactions. Its customizable user interface, Bundles, and other great features are too good to pass up.
Security features:
Swyftx is no slouch when it comes to security. They offer biometric authentication, breached password detection, an internal least-privilege security model, and external penetration testing. Those are only a few of the security protocols that Swyftx has put into place. It's surprising that Swyftx can offer such high-quality security despite having such low trading fees.
Easy Crypto's level of security is its most important feature. In addition to not holding any funds on the exchange, they offer a 100% funds safety guarantee on all orders. So, if something goes wrong when purchasing a coin, you don't need to worry about losing any money. Also, it's virtually impossible to have funds or digital assets hacked because they'll be stored in your private wallet.
Winner: Swyftx offers more security options than Easy Crypto and allows storage on its exchange.
Regulation compliance:
Swyftx made its name as the first liquid exchange to comply with all Australian tax codes and crypto regulations. When you set up your Swyftx account, you'll have to fill out a Know Your Customer (KYC) form to verify your identity, which is standard among all legitimate crypto exchanges.
Easy Crypto is registered with AUSTRAC and requires you to fill out a KYC form. To get started on Easy Crypto, you'll need to submit an electronic copy of your Australian driver's license or passport.
🏆 Winner: Swyftx

Swyftx is the best when it comes to regulation compliance because they were one of the first cryptocurrency exchanges to comply with all of Australia's tax codes and financial regulations.
Customer service:
In addition to low fees and great security, Swyftx also has a quality customer service team. They are one of the few cryptocurrency exchanges to offer live chat customer support. It can be stressful to go through technical difficulties when making cryptocurrency trades. That's why it is essential for beginners to have access to a live customer support team at all times.
Like many crypto exchanges, Easy Crypto only offers customer support via email. This can be a big downside for beginners who need someone to contact quickly when placing an order or trying to set up their account. However, users have said that once you get into contact with Easy Crypto's support team, they are very informative and helpful
🏆 Winner: Swyftx

Swyftx easily wins this category as they offer live chat customer service.
Mobile functionality/mobile app:
Swyftx's mobile app has an aesthetically pleasing interface that lets you track, buy, sell, and stake coins no matter where you are. With a 4.5-star rating after 5,000 reviews on the App Store, users simply love the mobile app.
Unfortunately, Easy Crypto doesn't offer a mobile app. So, if having a mobile app is essential to you as a cryptocurrency investor, you'll need to look for alternative exchanges.
🏆 Winner: Swyftx

Swyftx not only has a mobile app, but it outperforms most other exchanges in terms of ease of use.