Swyftx and Coinjar are two of the best crypto exchanges available in Australia. In today's post, we've done a side by side comparison so you can figure out which one is right for you.
| | visit site | visit site |
| --- | --- | --- |
| Rating | | |
| Cheaper Fees | | |
| Payment Methods | | |
| Direct Deposit | | |
| PayPal | | |
| Pay ID | | |
| Poli | | |
| Features | | |
| Beginner Friendly | | |
| Mobile App | | |
| Cold Storage | | |
| 2-Factor | | |
| Currencies Accepted | AUD | AUD, GBP |
Swyftx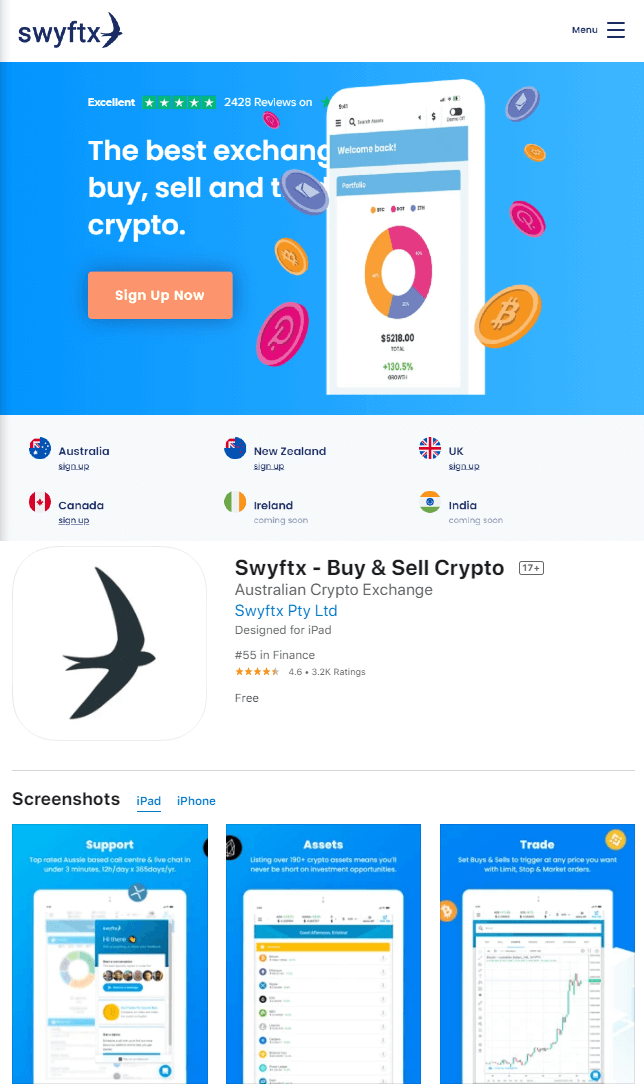 Swyftx is a cryptocurrency exchange that offers trading in Bitcoin, Ethereum and 260 other cryptoassets. It has been around since 2017 when it first gained popularity amongst its users, making them one of Australia's most recognized exchanges.
Coin Companion offer: Free $10 to trade with in Swyftx when you register through the link below.
Coinjar
Coinjar, a cryptocurrency platform based in AUS, UK has been operating since 2013. The company offers exchange services for Bitcoin (BTC), Ethereum(ETH) and many other digital currencies to its customers across America making it one of this country's most trusted exchanges today!
Fees
The first thing you should consider when comparing these two exchanges are their fees, so let's explore that in more detail here:
First you'll need to deposit your money on the exchange in AUD. Swyftx takes a cut of 0 and Coinjar charges a BPAY: No fee NPP: No fee Cash: 1.5% CoinJar users: No fee for deposits.
When it comes to buy fees Swyftx charge 0.60% and Coinjar charges 1%.
When you go to sell your Bitcoin or Crypto Swyftx charges 0.60% and Coinjar takes a 1% cut.
After depositing, buying, selling and withdrawing, Swyftx is the best option.
Deposit Methods
Swyftx offers 6 main methods to deposit AUD to your account. They are bank transfers, BPay, PoLi, PayID, credit and debit cards..
The daily deposit limit is 0. Most people won't need to worry about hitting that limit.
Coinjar offers a few methods to deposit AUD to your account. They are PayID, BPAY, Blueshyft, Instant Buy, Cash, Credit card, Cryptocurrency, Debit card.
The daily deposit limit is $50,000.
Overall, Swyftx is a better option because it has more deposit methods available which makes it easier to transfer funds.
Security Features
Swyftx is well known for their security measures. They use the following methods:
using JWT tokens & session expiry
offering 2FA account protection
checking for breached passwords on other websites
Coinjar also takes the security of their customers seriously. Here is what they do to protect your assets:
Site Security
Two Factor Authentication
Always check the website URL
While both exchanges are secure, it appears that Swyftx has better security over Coinjar.
Mobile App
Swyftx mobile app is a highly rated one with 4.6 stars on Apple's App Store. It has an easy and intuitive UI that makes it great for beginners, and experienced traders alike.
Coinjar does not have an app, however its website is accessible through a mobile browser, and is simple enough to use.
Swyftx is your best bet for traders who value a great mobile app.
Final Verdict
Either exchange is a great choice with a great service but Swyftx comes out on top for me.
Sign up now using the links below:
Swyftx
Coin Companion offer: Free $10 to trade with in Swyftx when you register through the link below.
Coinjar