Swyftx or Binance? The modern Australian exchange, Swyftx or the global giant Binance? These two crypto exchanges have positioned themselves as some of the best on the market, but what one should you choose?
| | visit site | visit site |
| --- | --- | --- |
| About | Swyftx is one of Australia's best exchanges | Binance is one of the world's largest crypto exchanges. |
| Rating | | |
| Cheaper Fees | | |
| Payment Methods | | |
| Direct Deposit | | |
| Credit Card | | |
| PayPal | | |
| Pay ID | | |
| Poli | | |
| Features | | |
| Beginner Friendly | | |
| Mobile App | | |
| Cold Storage | | |
| 2-Factor | | |
| Currencies Accepted | AUD | Most |
Swyftx
Coin Companion Offer: Sign up here Free $10 to trade with in Swyftx when you register here.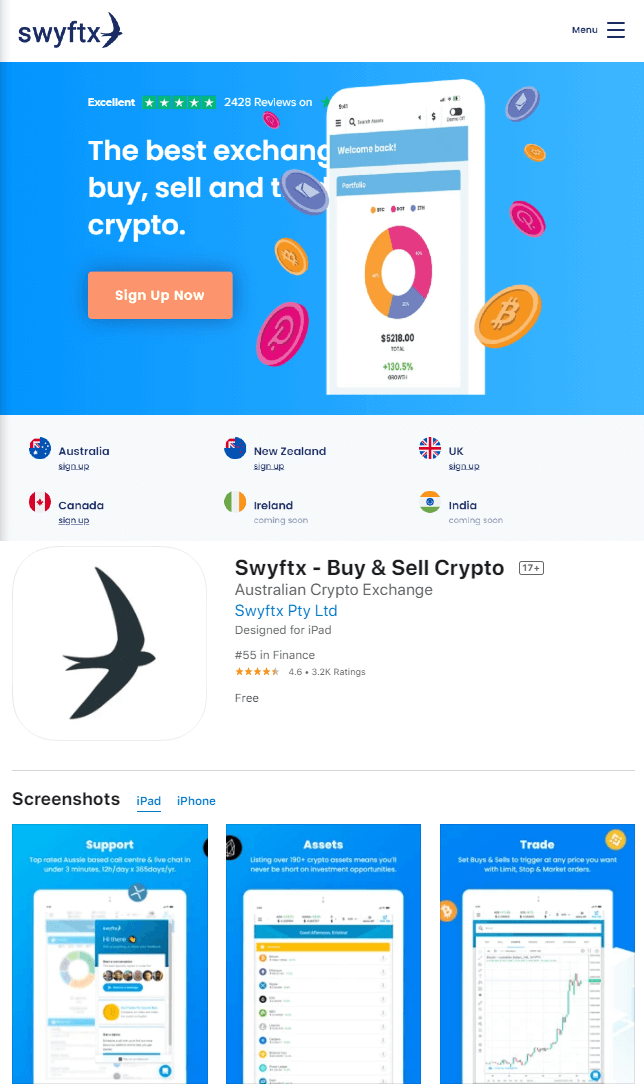 Pros
Low Fees
Great Customer Support
Easy to use Mobile App
High Daily Limit for Deposits
Swyftx is a fairly new exchange based in Queensland. Recently, they have been gaining a lot of popularity with Australian investors for their simple interface and competitive fees. With a great mobile app, Swyftx is great for people looking to buy cryptocurrency like Bitcoin with simplicity and ease.
Swyftx is one of our highest rated exchanges for Australians.
Binance
Pros
Trading fee structure
No deposit fee
Over 300+ cryptocurrencies
Diverse features
Cons
Security
Unavailable in seven US States
Regulatory issues
Poor Customer Service and No Live Chat
Binance is one of the oldest and largest exchanges on the market. They have a huge amount of features making it a great exchange for experienced traders and those looking for exposure to a wide amount of coins. Binance also has basic buy and sell features, making it beginner friendly.
Swyftx vs Binance: Exchange Comparison
Fiat currencies accepted:
As Swyftx is an Australian-only exchange, they accept AUD only.
Binance accepts the top currencies such as USD, AUD, CAD, EURO, including 36+ more fiat currencies.
Cryptocurrencies accepted:
Swyftx accepts over 100+ different cryptocurrencies – Most importantly, they accept the top coins such as BTC, ETH and LTC.
Binance also accepts a large amount of cryptocurrencies. Right now, over 200 cryptocurrencies are available on the platform.
Deposit methods:
You can deposit on Swyftx with: Bank Transfer, POLi and PayID.
POLi and PayID will deposit instantly with $0 fees and Bank Transfer using OSKO will arrive within the same business day.
Binance supports credit cards, debit cards, bank transfer, or buying with a cash balance.
With so many options, depositing on both Swyftx and Binance, it's simple to finance your accounts on either exchange.
Fees:
Swyftx has some of the lowest fees in Australia.
Swyftx has a 0.6% trading fee, lower than most other Australian exchanges. Swyftx also has low spreads (the price difference between the buy and sell price). This means trading on Swyftx will keep your gains nice and profitable. They also don't have any additional withdrawal fees when you withdraw your cryptocurrency. You would only need to pay the network fees of the crypto.
Binance has a standard trading fee of 0.1% – but you are able to reduce it via multiple methods. The exchange has a VIP level system, where the more you trade, the lower your fees go.
For Fiat fees, it depends on the fiat and deposit methods you choose but be aware the some do have fees.. Some are instant with 0 fees but others, like debit or credit card transfers cost 3 – 4.5%. These fees can add up significantly.
🏆 Winner: Swyftx

With just the one, small fee, in the form of a 0.6% trading fee, Swyftx is our pick when it comes to cheap fees.
Security features:
Swyftx is registered with the AUSTRAC (Australian Transaction Reports and Analysis Centre) making it a licensed and regulated trading platform.
They offer 2 Factor Authentication and state that they perform regular penetration testing and data encryption.
Binance uses cold storage and multi-sign wallets for your funds. This means that they keep most of their funds in an offline wallet which can only be accessed via multiple sign-ins.
For withdrawals, they use 2FA
In 2019 May, Binance got hacked and lost around $40 million dollars. But what Binance did to resolve it was not common in this industry. With many exchanges, if you were unlucky, you lost your funds. However, Binance decided to cover the losses with their own reserves and paid back everyone who lost their crypto.
🏆 Winner: Swyftx

For Australians, Swyftx is the safest bet in regards to security.
Regulation compliance:
Swyftx, as mentioned, is compliant with AUSTRAC – the Australian regulatory body which deals with anti-money laundering and counter-terrorism.
Binance currently operates in Australia, which means they are compliant with all the laws of anti-money laundering and Know Your Customer (KYC) laws. However, in recent months, Binance has run into regulatory issues with many world regulators investigating the exchange. In 2021, certain countries such as the UK and Japan have warned that Binance is not authorised to operate in their country.
🏆 Winner: Swyftx

With no question marks over their regulatory compliance, Swyftx is the winner in this category.
Customer Service:
Swyftx's customer service is super responsive and helpful. In addition to a live chat feature, they have an active Telegram group where the founders are on and regularly interact with the community.
Binance has a self service section, which works fine for common issues, however, for more specific issues, it can be a bit of a problem.
Both exchanges have an FAQ section where you might find any answers to issues you are having.
🏆 Winner: Swyftx

The live chat feature, where you can talk to a real person is a highlight of Swyftx.
Mobile functionality/mobile app:
Swyftx has a great mobile app that's easy to use while still providing the full range of features. The app is available to download from the Google Play Store and the Apple Store. Currently, it has a huge amount of very positive reviews from users.
Binance also has a mobile app, however, reviews are mixed. Some claim the app is over complicated and there have been some reports of users finding it difficult to move crypto on Binance.
🏆 Winner: Swyftx

For Australians, the Swyftx app wins out, as it's tailored for the Aussie market.
The Verdict: Swyftx 🏆
Swyftx and Binance are two very different exchanges. Binance is a huge global platform, with many features but poor customer support and regulation issues.
Swyftx is an Australian owned exchange, making it the perfect platform for Australians looking to buy crypto.
With an easy to use platform, low fees and great customer support, Swyftx is our pick out of these two exchanges.