Kucoin and Swyftx are two of the best crypto exchanges available in Singapore. In today's article we'll compare the two of them head to head so you can figure out which one is right for you.
| | visit site | visit site |
| --- | --- | --- |
| Rating | | |
| Cheaper Fees | | |
| Payment Methods | | |
| Direct Deposit | | |
| PayPal | | |
| Pay ID | | |
| Poli | | |
| Features | | |
| Beginner Friendly | | |
| Mobile App | | |
| Cold Storage | | |
| 2-Factor | | |
| Currencies Accepted | AUD, USD, EUR, GBP, RUB, CNY & 40+ more | AUD |
Kucoin
Pros
Low fees
370+ coins available
Trading Bot
Great mobile app
Soft Staking
Cons
No live chat customer support
Not licensed in the U.S.
Since 2017, KuCoin has provided a safe and easy-to-use crypto exchange to its users around the world. This Singapore-based cryptocurrency exchange is available in nearly every country and has over 9 million users. KuCoin is one of the best crypto exchanges, so if you want to learn more, go ahead and read our full review here.
Swyftx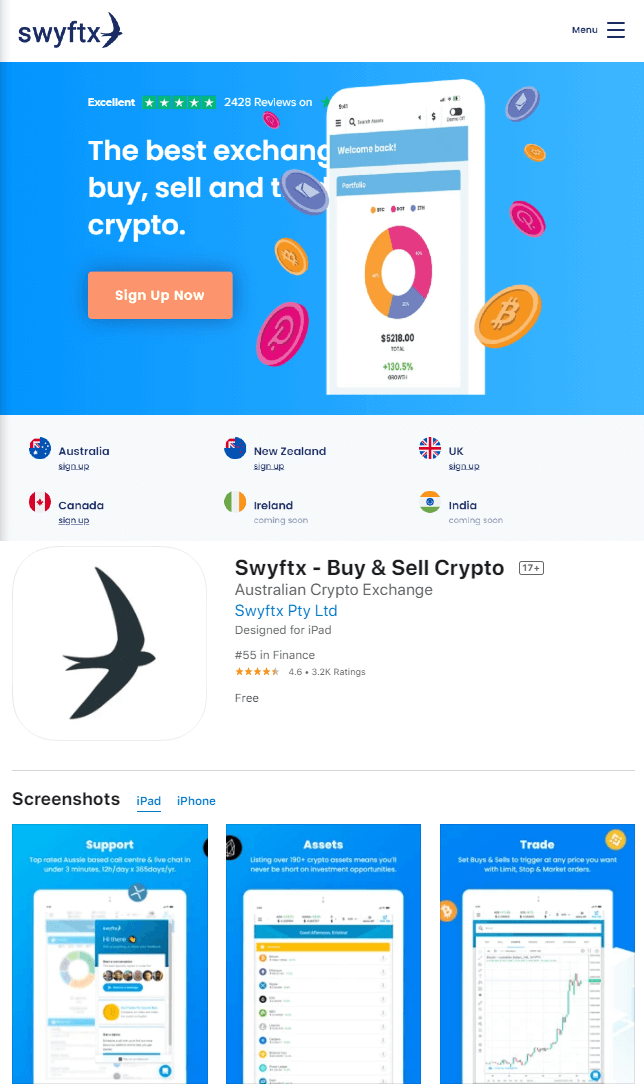 Pros
High levels of security
Small spread and low trade fees
Customizable user interface
Portfolio diversification made easy with Swyftx Bundles
260+ coins offered
Cons
Only available to Australian users
Swyftx gained widespread use in Australia in 2017 as the first cryptocurrency exchange to abide by all Australian regulations and tax codes. This exchange is geared towards the average Aussie looking to diversify into some digital assets but doesn't want the pricey fees other exchanges come with. Read our full exchange review here to learn why over 300,000 Australians trust Swyftx for their crypto trading.
Coin Companion offer: Free $10 to trade with in Swyftx when you register through the link below.
KuCoin vs Swyftx Exchange Comparison
Fiat currencies accepted
Kucoin accepts over 50 fiat currencies, including USD, EUR, and AUD.
Swyftx is optimized specifically for Australian users and only allows for AUD deposits. Exceptions can occur for large bank transfers, but this is very rare.
Cryptocurrencies accepted
KuCoin accepts just about every coin you can think of, from Bitcoin to Dogecoin, as they offer over 370 different cryptocurrencies.
Although Swyftx doesn't accept many fiat currencies, they do accept over 260 different cryptocurrencies, like BTC, ETH, LTC, and many more.
KuCoin vs Swyftx Fees
KuCoin's trading fees sit at .1%, which makes them some of the lowest trading fees of any cryptocurrency exchange. Also, you can reduce them further if you pay for the fees with their native coin KCS.
Swyftx's trading fees are .6%, which is still super low for an exchange. While their trading fees may be higher than KuCoin's, they make up for it by having the lowest spread of any Australian crypto exchange, meaning there is very little markup on any of your crypto purchases.
🏆 Winner: Swyftx

While Swyftx doesn't have the low trading fees that KuCoin offers, they don't sneak extra charges in through high spreads.
Deposit Methods
KuCoin recently made depositing onto their platform easier through the KuCoin Fiat Account. Prior to the KuCoin Fiat Account release, users were unable to deposit fiat currencies. However, users can now fund their accounts with 50 different fiat currencies free of charge. If you don't want to use a bank transfer, you can instead make instant purchases with Paypal, debit card, credit card, and Apple Pay.
Swyftx lets you deposit funds onto their exchange with zero fees involved. You can fund your account via POLi, credit card, debit card, PayID, OSKO, or cryptocurrency. The only drawback is that fiat deposits can only be made with AUD.
🏆 Winner: KuCoin

KuCoin wins this category, but only because they support a variety of fiat currencies.
Staking on KuCoin vs Swyftx
KuCoin is a trailblazer when it comes to staking due to their introduction of Soft Staking in 2019. Normally, to stake a digital asset, you have to lock up your crypto coins for a specified period of time to earn rewards. But, with KuCoin's Soft Staking, you can earn interest and rewards on your digital assets without ever having to lock them away.
Swyftx has always focused on providing an easy-to-use platform to their users, and they have brought this approach to staking. On Swyftx, crypto beginners can easily stake coins and earn rewards and interest. Swyftx users can even stake coins on the go with the Swyftx mobile app.
🏆 Winner: KuCoin

KuCoin's implementation of Soft Staking makes them one of the best exchanges in the world for earning interest on your digital assets.
Notable Features
One of KuCoin's most notable features is that they have one of the widest selections of cryptocurrencies of any exchange. With more than 370 different digital assets, you would be hard-pressed to find a crypto coin that KuCoin doesn't offer. KuCoin also provides unique features for its users, such as the Trading Bot. With the Trading Bot, you can set its parameters and have it trade for you, even while you sleep.
Users love Swyftx for its easy-to-use interface that is great for beginners who can get intimidated by more complex platforms. However, this doesn't mean that Swyftx is a dumbed-down exchange. One of their most innovative features is their customizable user interface that allows crypto veterans to customize their trading platform to their heart's content with various trackers and charts. Swyftx also makes diversifying your digital assets super easy with Bundles. Swyftx Bundles lets you purchase a collection of different coins, spreading your investment across the bundle evenly.
🏆 Winner: Swyftx

Swyftx's customizable interface and Bundles purchases are fantastic features that make trading on their platform enjoyable and easy.
Security Features
KuCoin is a global cryptocurrency exchange, and as such, they take security immensely seriously. They brag that their exchange offers bank-level asset security, which they accomplish through measures like micro withdrawal wallets and dynamic multi-factor authentication.
Swyftx is no slouch when it comes to security either. They offer too many security features to list here, but here are a few: biometric authentication, breached password detection, internal least-privilege security model, and external penetration testing.
🏆 Winner: KuCoin

KuCoin wins this category as nothing can quite beat bank-level asset security.
Regulation Compliance
KuCoin is available in so many different countries because they are skilled at adapting their exchange to all the necessary governmental regulations found around the world. However, even though KuCoin is available in a ton of countries, they are not licensed in the United States. U.S. crypto traders should consider other options.
Swyftx became such a popular exchange because it was the first liquid exchange to adopt the Australian tax code and crypto regulation measures.
🏆 Winner: KuCoin

KuCoin has the edge when it comes to regulatory compliance because they have adapted to all sorts of regulations in order to offer their services in most countries around the world.
Customer Service
KuCoin is great in just about every aspect other than customer service. They don't offer live chat support, meaning you'll have to email their support team and hope for a quick response. Having a responsive customer support team is a great asset, especially for beginner crypto traders who are still learning. So, KuCoin's lack of live support is a serious factor to consider.
Swyftx has always prioritized user experience and making crypto trading accessible to all Australians. One of the ways they have done this is through a responsive and helpful customer service team. Their live chat customer support team is super helpful for beginners.
🏆 Winner: Swyftx

Swyftx easily wins this category as they provide a substantially superior customer service experience.
Mobile functionality/mobile app
KuCoin has both a high-functioning desktop and mobile app. You can get the KuCoin app on iOS and Android devices. On the Google Play store, KuCoin has earned itself a 4.5-star rating after 13,000+ reviews.
Swyftx has a great mobile app and has also earned a 4.5-star rating. The only thing is that Swyftx doesn't have the same amount of users KuCoin does, so their app has only been reviewed by 5,000 users. Still, their mobile app is known to be aesthetically pleasing and provides many of the same features present on its desktop platform.
🏆 Winner: KuCoin

KuCoin has a slight edge in this category as their mobile app has a somewhat sleeker design.