Independent Reserve was launched in 2013 by Adam Tepper and Adrian Przelozny. Their vision was to build one of the most secure and trusted cryptocurrency exchanges in Australia. They have served more than 150,000 users from Australia, New Zealand and other parts of the world.
Since their launch, they have built a world-class order book exchange and OTC (over-the-counter) service desk. In 2020 Independent Reserve have added new assets and they continue to expand operations to South-East Asia as well as add new features and partnerships.
Independent Reserve is registered in Australia and certified by Blockchain Australia as a 'Digital Currency Business'. You can buy, sell or trade popular cryptocurrencies using AUD, USD or NZD.
How to use Independent Reserve?
To begin trading at Independent Reserve, you need to register an account first.
Sign up
Step 1: Sign up here to create your Independent Reserve account.
Step 2: You need to set a username and password and click on 'create account'.
Step 3: On the next page, you need to provide identity details.
Step 4: After you provide the necessary details, you need to verify your identity.
After these steps, you can now head over to the exchange to buy, sell or trade cryptocurrencies. Plus there's heaps of information about crypto you can learn on their site and via their weekly newsletter.
Buy & Sell Crypto on Independent Reserve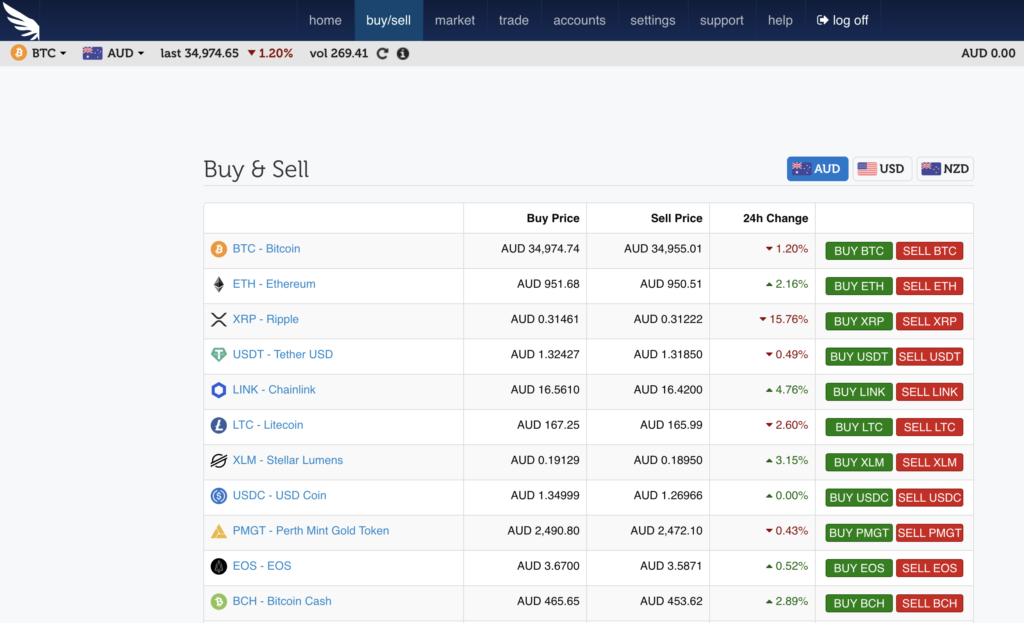 Step 1: Now that you have created an account, you need to deposit funds to begin trading.
Step 2: Head to the "accounts" tab and click "deposit wallets".
Step 3: You will be given a crypto address to deposit in crypto, or you will be prompted to choose a payment method if you wish to deposit fiat currency.
Step 4: Navigate to the "buy and sell" section on Independent Reserve.
Step 5: Choose the currency you want to trade-in (AUD, USD or NZD). Now, choose a cryptocurrency from the list and click on the "buy or sell" button.
Step 6: Click on 'Buy now' or 'Sell now' on the next page, it will ask you to log in or create an account and then direct you to the exchange.
Step 7: On the next page, you can buy or sell after entering the volume.
Is Independent Reserve Safe?
Independent Reserve is regulated by the AUSTRAC (Australian Transaction Reports and Analysis Centre). They are legally required to verify the identity of the users, which helps prevent malicious activities.
The exchange has servers in two secured data centres in the country. This ensures zero data loss and the system is replicated in both the location in real-time.
They also have a completely configured trading system to replace the primary platform if required. The data stored on the servers is encrypted multiple times and signed with disbanded keys. The exchange stores a bulk of coins in cold storage as well.
For user safety, Independent Reserve offers Two Factor Authentication for an extra layer of security.
Independent Reserve Review and Fees Breakdown
Fiat Currencies Accepted:
Independent Reserve accepts deposit and withdrawal in AUD. Plus you can also trade in fiat currencies including, Australian Dollar (AUD), United States Dollar (USD) and New Zealand Dollar (NZD).
Cryptocurrencies Accepted:
A total of 24 cryptocurrencies are listed on Independent Reserve. They include – BTC, ETH, XRP, LINK, USDT, USDC, BCH and more.
Independent Reserve's Fees
Independent Reserve charges low trading fees, which reduces with increased trade activity. They also have various deposit methods. For Australian Citizens, deposits under AUD $100 carry a $0.99 fee, but large deposits are free of charge. SWIFT deposits in USD or NZD have a $15 fee for anything up to $5,000 and are free for larger amounts.
There is also a trading fee anywhere between 0.05-0.5%, which varies based on 30-day trading volume.
Method for Deposits and Withdrawals:
Although it is an international crypto exchange, Independent Reserve mainly caters to trading clients from Australia and New Zealand. Australians can add fiat currency via various deposit methods, including POLi or EFT. With POLi, you can deposit up to $5000 AUD, and it will be processed in one minute.
Deposits via PayID and Osko of AUD $1,000 and above and free, but with smaller deposits, you incur an AUD $2.50 processing fee. For international users, SWIFT transfer is available. NZD and USD deposits of up to $5,000 incur a processing fee of $15 and will take three or more days to process.
Besides fiat currency deposits, you can also fund your accounts with cryptocurrencies like ETH, XBP and BCH. Withdrawals in cryptocurrencies have different withdrawal fees (you can check it out here).
If you wish to withdraw and stop trading, there is a minimum limit of 0.01 ETH. Withdrawal in AUD is free of charge and is completed in one day. For international and non-AUD withdrawals, a fee of $20 is applicable, and it typically takes two to three business days to complete.
Security Features:
Independent Reserve has incorporated various security features for the benefit of the trading users. They have two data centres set up in different locations in Australia. The data from the exchange is replicated on both these data centres simultaneously in real-time, which ensures zero data loss.
Unlike most cryptocurrency exchanges, Independent Reserve also stores bulk amounts (up to 95%) of cryptocurrencies in cold storages. Users can enable Two Factor Authentication(2FA) to add another layer of security.
Regulation Compliance:
Independent Reserve is regulated by the Australian Transaction Reports and Analysis Centre (AUSTRAC). The team have also managed to include a KPMG tax estimator to ensure their trading users are compliant.
Customer Service:
The customer support of Independent Reserve is reachable via various channels, and their response time is within 24 hours. This timing is standard for the majority of Australian cryptocurrency exchanges.
History of Independent Reserve
Independent Reserve is a 7-year-old exchange based in Sydney, Australia. It was the first insured cryptocurrency exchange in Australia where users could buy bitcoin and bitcoin cash from their bank account.
The Verdict on Independent Reserve
Independent Reserve is undoubtedly one of the top crypto exchanges in Australia. Voted as Australian Digital Exchange of the Year, it is a trusted trading exchange with over 150,000 users and 8000 trusted SMSF. It offers a secure platform for trading and exploring cryptocurrencies such as bitcoin.