Being a crypto enthusiast, you need a secure place to store your assets: your solution a digital cryptocurrency wallet. Cryptocurrencies are prone to hacking, and storing them somewhere secure should be of utmost importance.
When it comes to storing your bitcoin, you have many options. You could for instance store digital currencies on hardware, online or paper wallets. However, hardware wallets offer the highest security features among different wallets. These hardware wallets are physical wallets that run the wallet application.
A bitcoin wallet generates public and private key for transactions, and with it, you can gain access to your funds. The private key lets you access your funds, and the public key enables you to receive funds. It is also connected directly to the blockchain, a public ledger that stores every bitcoin transaction.
Your cryptocurrency wallet can hold various cryptocurrencies. However, some may specifically hold Bitcoin as well. In this article, we will talk about various Bitcoin wallets.
Ledger Nano S
The Ledger Nano S was released in 2016 and is easily the best hardware wallet available. It comes with an in-built display for better ease of use. To send Bitcoin from this wallet, you need to confirm the transaction physically.
The Nano S has physical buttons to enter your passcode or confirm yes/no and is quite user-friendly. To access your coins, you can plug in the USB, enter your passcode and confirm the transaction.
This hardware wallet supports more than 1500 tokens and 26 coins. To access ERC-20 tokens, you need to connect myetherwallet. To store NEO tokens, you must link the wallet to NEON.
The benefit of hardware wallets like Nano S is that they store your private key offline. So no one can gain unauthorised access to your funds. When you receive the wallet, you need to set a 4-digit PIN. You need to enter this PIN every time you want to access the wallet.
The Ledger Nano S provides extra security features, which protects your funds if you forget your PIN. You will receive a 24-word recovery phrase once you confirm your PIN.
The Nano S is one of the cheapest hardware wallets on this list and definitely worth your money. It has an amazing build quality and is made from stainless steel.
KeepKey
KeepKey is a popular cryptocurrency wallet that supports over 40 crypto assets, mainly – Bitcoin, Bitcoin Cash, Bitcoin Gold, DASH, Dogecoin, Ethereum and Litecoin. It is one of the top 3 best hardware wallets alongside TREZOR and Ledger.
Unboxing the KeepKey wallet is quite exciting, as it has a unique packaging and product design. The box contents include a KeepKey hardware wallet, a USB cable, a card to note down your recovery phrase and a leather case to keep the card.
The KeepKey wallet has just one button, to turn the device on or off. This same button, if long pressed, helps you confirm transactions. You can manage every other process through the mobile app, including the PIN setup and recovery phrase setup.
This crypto wallet was released in 2015 and was priced relatively high. Compared to other wallets, KeepKey falls short in competition. However, it is the lowest priced hardware wallet (only 65 AUD).
The main downside of this crypto wallet is that it supports only a limited number of crypto assets than the Ledger Nano S (it supports over 1500 tokens and 26 coins). It has the best and largest screen which improves usability, but it also makes it a bit heavy to carry around.
Swyftx
Swyftx is one of the best leading cryptocurrency exchanges in Australia. Launched in 2017, in Queensland, Australia, Swyftx quickly climbed to the top. AUSTRAC also regulates this crypto exchange making it a popular choice for many cryptocurrency enthusiasts wishing to buy/sell Bitcoin.
Like many other exchanges, Swyftx offers an internal exchange wallet to store your cryptocurrencies. When you are new to any exchange, holding your crypto assets can be a hassle. But with an integrated wallet feature, storing crypto on Swyftx becomes easier.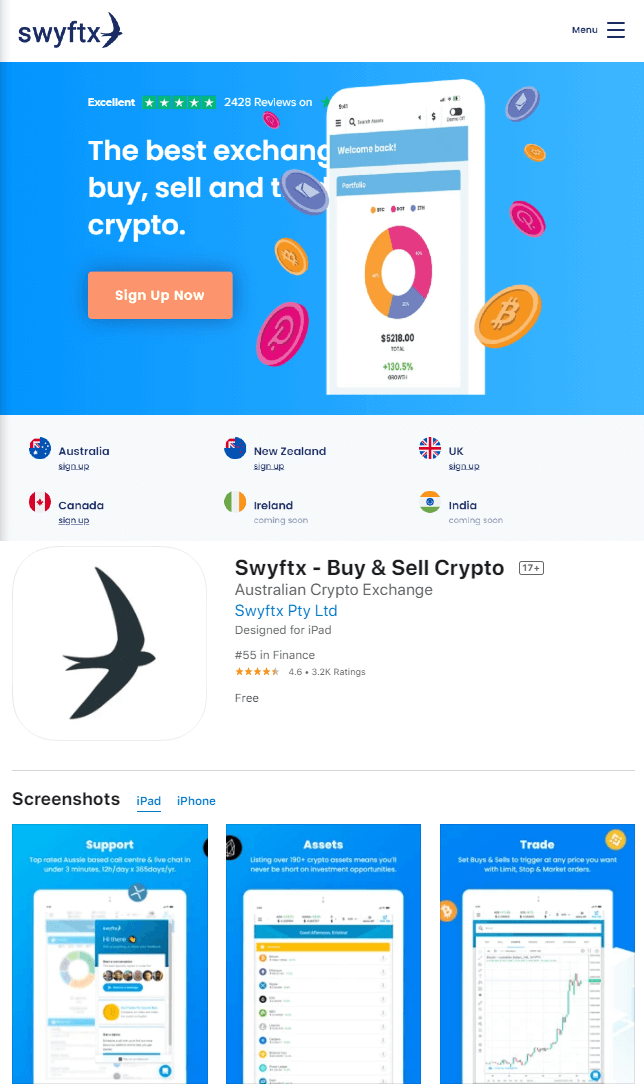 The Swyftx exchange wallet is a mixture of cold and hot or offline and online crypto wallet. An integrated wallet eases all the processes on the platform. It also incorporates various security features to secure the wallet.
It uses JWT tokens and session expiry. It offers Two Factor Authentication (2FA) for its users. It also checks for breached passwords on other websites and undergoes external penetration testing to secure the wallet and platform.
However, Swyftx exchange wallet is an online wallet, which can be susceptible to malicious attacks. It is advisable to use hardware wallets to store your cryptocurrency permanently.
Trezor
The TREZOR One was released in 2013 and is one of the first and best Bitcoin hardware wallets available in the market. It offers cold storage as well as the ability to act as a hot wallet. It is a small device that can connect to your computer via a USB cable.
The TREZOR One cryptocurrency wallet has buttons which one must press physically to confirm any outgoing transaction. It helps you control the private key to access your crypto assets. In case your TREZOR is lost or damaged, a 24-word seed and passphrase can help recover the wallet.
The 24 words passphrase is generated using RNG from the device and a computer. You also need to set up a 4-digit PIN to authorise transactions. The wallet UI is clean and easy to use for beginners and advanced users alike.
You can send or receive, review your transactions and buy coins directly from the TREZOR wallet application. It offers good privacy features for users. The device has no serial number, and the software is open source.
To use TREZOR wallets as software wallets, you can link it with many desktop and browser based wallets. Your TREZOR ONE can also act as a password manager if necessary. You can store all your online passwords for various accounts.
TREZOR released another version of its crypto wallet – the T, in 2018. It comes with a full touch screen display for improved usability.
CoinJar
Coinjar is also one of the best exchanges in Australia. It offers a secure wallet to store your crypto assets and comes with multi-factor authentication for increased security. The popular wallet also supports over 17 different cryptocurrencies.
CoinJar, being one of the longest-running Bitcoin processors in Australia, has mediated over 1.5 billion dollars' worth of trade – that's a lot of buy/sell orders! The CoinJar cryptocurrency wallet is available for various devices such as desktop and mobile. Customers can send and receive cryptocurrencies and use Bitcoin quickly due to the built-in QR code system.
CoinJar charges a transaction fee for BTC transfers from CoinJar to an external address. These low fees vary based on the amount you are transferring and the blockchain congestion.
The best part about their wallet is that they store 90% of the users' crypto assets in cold storage. These cold storages are geographically-redundant and secure. The exchange also claims that they maintain full reserves at all times to cover customer balances and currencies.
If you use the mobile app, you can set a passcode by which you can access the wallet.
CoinJar's wallet service is beginner-friendly and supports experienced traders as well. Traders can convert their liquid assets to digital assets easily.
The wallet has a simple interface with no hidden buttons. The web page is quite attractive too. When compared to the wallet app, the web page is much easier to use.
Electrum
Electrum is one of the oldest and widely used Bitcoin wallet. Released in November 2011, it is a simple, user-friendly, and open-source Bitcoin wallet. It is a software wallet, which is more secure than online wallets and less than offline wallets.
You avail the benefits of both online and offline wallets with Electrum. Your private keys are never shared with the server, and you have total control over it and your Bitcoin. This wallet is perfect if you only want to access Bitcoin.
For better security, you can use the multi-signature wallet and two-factor authentication. It also uses a seed phrase as a backup method. Anyone can run a server, as the server code is open-source and written in Python.
Despite its security measures, in November 2017, there was a security breach. It took the Electrum team until January 2018 to fix the issue. A bug allowed malicious websites and entity to control your Electrum wallet. It also allowed hackers to redirect your Bitcoins to their wallet addresses.
Setting up your Electrum wallet is very easy. You need to download the wallet from the website and click on "Windows Installer". Once downloaded, install the wallet by following the onscreen prompts. You can then set up your wallet with a password and recovery seed phrase.
Sending and receiving Bitcoin with Electrum is simple and straightforward. You just need to enter the respective address, and you can transact BTC.
The Importance of Security for Storing Crypto and Private Keys
As you already know, cryptocurrency assets (such as Bitcoin, Ethereum, Litecoin) are connected to the internet, and the internet is a medium for various malicious activities. Due to this, anyone can gain unauthorised access to your digital assets, and they may be compromised. Basically, digital assets are highly prone to hacking and other malicious activities.
Hence, storing digital assets in hot or online crypto wallets is not recommended. However, if you are an active crypto trader, you can use hot wallets to store a minimal amount of crypto and store large amounts in cold or offline wallets that are protected by a private key.
Due to insufficient security measures, over $1.1 billion worth of crypto assets were stolen in 2019. Ever since then, security has been a major concern in the crypto space. Many exchanges were struggling with implementing security measures.
Cryptocurrencies are supposed to be secure due to the implementation of cryptographic encryption. However, multiple challenges arise when dealing with cryptocurrencies: the transactions, storage and retrieval of cryptocurrency coins in a secure online network. Also, the risk of crypto wallets and exchanges being hacked persists so it is essential to store your private keys offline and somewhere safe.
Many exchanges are opting for smarter crypto wallets with robust contracts and implementing a hybrid of cold and hot storage mechanisms. However, some people still deal in unsecured spaces. This is why top crypto exchanges tend to offer lower fees along with increased security.
As more malicious attacks occur, people's faith in cryptocurrencies will diminish. So it is not only the market that gets affected; the consumer demand also reduces. The best solution on top of your own private keys is a multi-tiered security approach.
An increase in theft in the crypto space, the exchanges and organisations must strive to provide a secure platform for users to transact. Newer frameworks and security firewalls must be implemented.
Here are some of the ways that you can increase security from your end –
Enable Two Factor Authentication (2FA) – a unique code sent to your mobile device or email will help confirm your login.

Use a combination of hot and cold cryptocurrency wallets for storage. Store a minimal amount on hot wallets for trading and a large chunk of your crypto balance should be in cold storage.

Do not share your private keys or publish them on a public platform.

If you are keen on using online wallets, try to spread your crypto assets across different wallets.
Ways of Storing Your Cryptocurrency
There are many different ways of storing your cryptocurrency, and some may suit better for certain people. Being a digital currency, they require a unique way for storage. Hence, digital wallets emerged.
A digital wallet is a must for any cryptocurrency holder. It is a safe and secure storage option. One of the first digital wallets was released by Satoshi Nakamoto when Bitcoin came out in 2009.
There are mainly two types of storage – online and offline. Each of them serves a specific purpose and have their pros and cons. Let's have a look at the different types of storage.
Online Storage
Any wallet that operates on the internet and requires minimal setup can be an online digital wallet. It can be accessed from a mobile application or browser or even a desktop application. The two different types of online storage are –
Cryptocurrency Exchanges and Wallets:
Exchange wallets are online storage wallets that are integrated with your crypto exchange. For example, Swyftx offers an exchange wallet for its users to store their crypto assets.
Pros:
Easy to use.

Requires no setup and easily accessible from a browser or mobile application.
Cons:
High security and safety risk.
Hosted Wallets:
Hosted Wallets are offered by organisations that allow you to send and receive Bitcoin without revealing the private keys to you. They have control over your Bitcoin and transact on your behalf. The wallet will be hosted on their server.
Pros:
User friendly.

Users don't have to worry about securely storing their Bitcoin.
Cons:
High security and safety risk.
Offline Storage
As the name suggests, offline storages or cold storages are wallets that are not connected to the internet. They are more secure and relatively difficult to set up.
Hardware Wallets with a Private Key:
Hardware wallets are one of the most secure forms of storing your Bitcoin. They are not connected to the internet, so no hacker will be able to access your Bitcoins. You authorise transactions using your private keys stored on the device and a 4-digit PIN code.
Hardware wallets also come with an in-built display. You need to confirm transactions by pressing a button physically. This ensures no hacker can authorise transactions automatically.
Ensure to buy hardware wallets for your bitcoin and cryptocurrency from authorised sellers only and not a third party.
Pros:
Highly Secure with 4-digit PIN code and 24-word passphrase.

Easy to use.
Cons:
If you lose your 24-word passphrase, you cannot recover your wallet in case of theft or physical damage.
Paper Wallets:
A paper wallet is a document that contains your private key to spend or transfer BTC and a public address to receive Bitcoin. They are generally printed with QR codes so that you can scan the required private keys for the transaction. They are perfect for storing private keys offline.
Although paper wallets are secure, you need to take precautions before printing it. Ensure to use an operating system on a bootable drive, generate the keys offline in the browser and use a printer, which is not connected to the internet.
Pros:
It is one of the safest forms of Bitcoin wallet.
Cons:
If you lose your paper wallet, someone can access your Bitcoin as it contains your private key.
Final Thoughts
Based on your requirements, the best bitcoin wallet may vary. A crypto trader requires online or hot wallets to send and receive Bitcoins quickly. But a crypto holder only requires a hardware wallet to store his assets.
Trezor and Ledger Nano S are great hardware wallets and worth the money if you are looking to buy one today. If you visit Australian crypto exchanges like Swyftx and CoinJar, then you can use their integrated wallets. Another great choice would be a software wallet like Electrum.
If you decide to purchase a hardware wallet, ensure to buy from reputed sellers or official websites and not on eBay or Amazon. We hope our curated list of the best Bitcoin wallets helps you choose the desired storage option for your Bitcoin.